This past week, I headed to London for the Rugged DevOps event, where I had the chance to catch up with a few more industry thought leaders.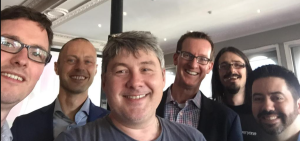 First, I caught up with Gareth Rushgrove from Puppet Labs, who also runs the DevOps Weekly newsletter.  In this episode of the DevOps Leadership Series, Gareth explains why the importance of security tests within DevOps practices is going to be a big topic for years to come. Gareth anticipates that "In five years time we will look back on this and ask 'why were we not always doing this'?"
I then caught up with Helen Beal, Head of DevOps at Ranger4, where she discussed the importance of DevOps and security.  While the two ultimately need to work hand and hand, she voiced concerns about DevOps practices sometimes circumventing controls that are essential to a business's safety. She also said that DevOps supports security in a number of ways: from making things consistent to relying on more automation.
Finally, I caught up with Justin Arbuckle, Vice President, EMEA & Chief Enterprise Architect at Chef. He discusses key trends he expects to see in over the next 9-12 months regarding compliance and security.  Justin explains that compliance as a core driver of DevOps is something that will start to shape our conversations over the next year, whereas the two have previously been seen as contradictory. He believes that we will see that high velocity organizations are able to improve compliance continuously, and tells us to look out for the changing role of the security officer in 2015.
Next up in the series, I head to the United States Capitol, Washington DC, for DevOps Days DC.
NOTE: If you have missed any of the other videos from this series, you can find them here.  (We're up to 15 so far).
The following two tabs change content below.
Derek is a huge advocate of applying proven supply chain management principles into DevOps practices to improve efficiencies, reduce security risks, and sustain long-lasting competitive advantages. He currently serves as vice president and DevOps advocate at Sonatype, creators of the Nexus repository manager and the global leader in solutions for software supply chain automation. Derek is a distinguished international speaker and lectures regularly on modern software development practices, continuous delivery and DevOps, and application security. He shares insights regularly across the social sphere where you can find him at @weekstweets and https://www.linkedin.com/in/derekeweeks.
Latest posts by Derek Weeks (see all)